Living/Dining Room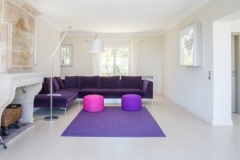 Situated on the upper floor of the villa, the living/dining room opens out onto a full-length terrace on the side of the house facing Saint Tropez. Affording a spectacular view of the harbor, the terrace leads to a large Mediterranean-style lounge. The wall of the lounge that faces Saint Tropez is made of an entirely retractable glass-panel. With the panel open or closed, those in the lounge are also afforded a wonderful view of Saint Tropez.
A stonework outdoor grill on the terrace is perfect for summer barbecuing. A roof terrace on the south side of the house offers a splendid view of the Port Grimaud harbor. An exterior stairway here gives access to the garden.
Kitchen
The kitchen is equipped with a La Cornue kitchen range that will delight those who love to cook. A terrace with a view of the sea leads directly from the south side of the kitchen to a part of the garden. The kitchen appliances include a large refrigerator-freezer with an ice maker.
Bedrooms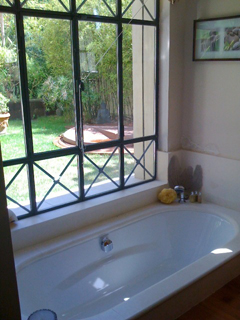 Three bedrooms are located on the garden level. Each of the bedrooms has its own bath and two afford a view of the sea. The master suite includes a separate dressing area.
Accessory Rooms
The garden level includes a small laundry room, a television room and office room.
Guest Apartment
A separate apartment with a bath and kitchenette is available for guests. The apartment is located in the lower area of the garden level and also affords a view of the harbor.